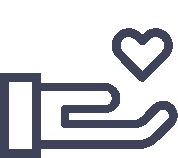 "In doing something, do it with love or never do it at all."
Holiday stockings are filled with gifts and essentials and delivered to residents of Plymouth Crossroads
Volunteers donate and assemble hygiene kits that are shipped to families and communities in need
An annual effort by the congregation to provide holiday gifts to deserving families in our community
The third Sunday of each month, when non-perishable food is collected by the congregation and donated to a local food pantry
The church's youth groups use items and financial donations to set up housing for families in need though Journey's End refugee services
A weekly group that gathers to knit blankets, shawls and dolls sent to underdeveloped countries
CONTRIBUTE

(Coming Soon!)
ACC has a long history of contributing to mission projects that unite members to support local and global causes. If you would like to donate to our church, or specifically to one of the efforts listed above, you may do so here.